The DualFisheye Plug-in allows you to take a single or bracketed / burst dual-fisheye 360 degree images more quickly, delaying the merging/stitching for batch processing at a later time, saving you time.
The plug-in supports HDR-DNG mode, which allows you to capture a super high dynamic range RAW image with one click.
Ichi's DualFisheye Plug-in merges up to +/-4 EV RAW images into single DNG file.
This technique reduces or eliminates saturated highlight & noisy shadows.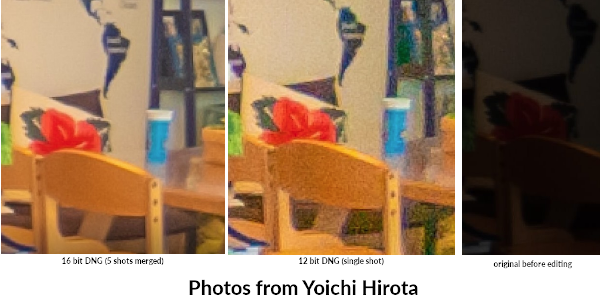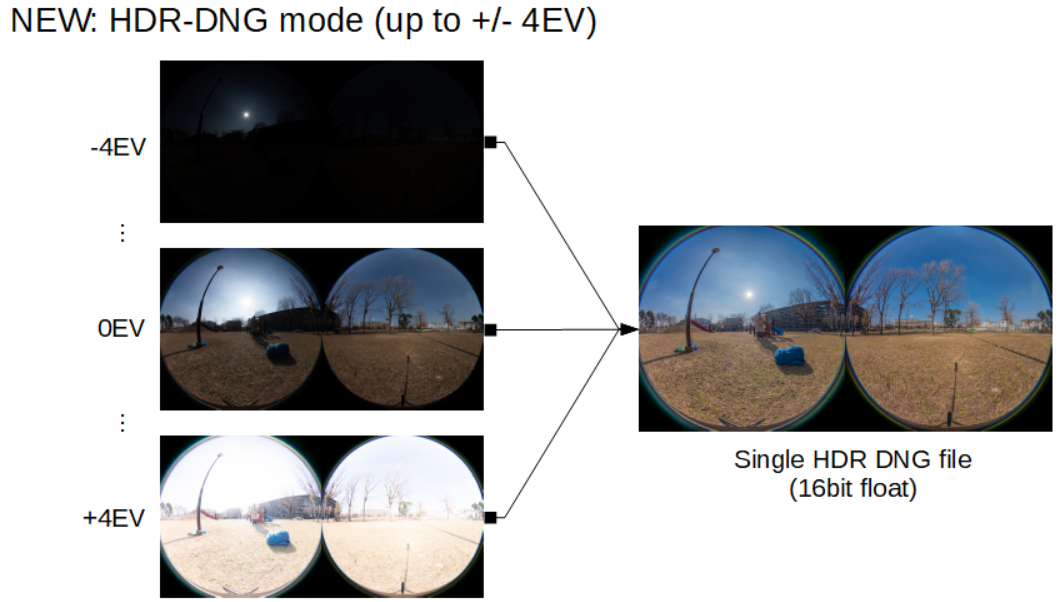 1)In single shot mode, 1 shot takes about 1 second, which can save significant time if you are taking hundreds or thousands of pictures for tasks such as building documentation.

2)bracketing mode can take 3/5/7/9 shots at 1EV step with only 1 click of the shutter button. The process takes approximately 3/5/7/9 seconds.

3)burst mode can take 3/5/7/9/17 shots with only 1 click of the shutter button. The process takes approximately 3/5/7/9/17 seconds.

<How to use>
"Mode" button: toggles shooting mode
"Wifi" button: toggles number of shots
"Wifi" button (long press): toggles 10 sec timer on/off
"Fn" button (Z1 only): toggles JPG/DNG* mode


*DNG takes more time: ~2.5sec/shot

To speed up the process, the DualFisheye Plug-in keeps the two 180 degree fisheye images unstitched. Afterward, you can send them over to the processing devices (e.g. PC/Android) for batch processing (merging/stitching application is required).
Active community discussion and hands-on reviews are here.
Toyo Fujita of IKOMA360 successfully created an HDR(RAW) image with using Bracket mode(DNG, -2,-1,0,1,2) inside the Japanese old style house. Have a look.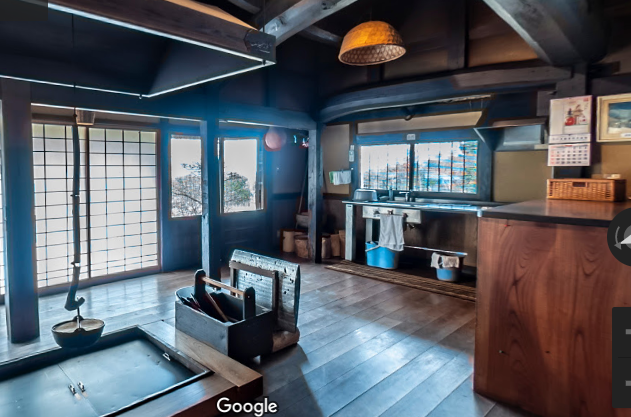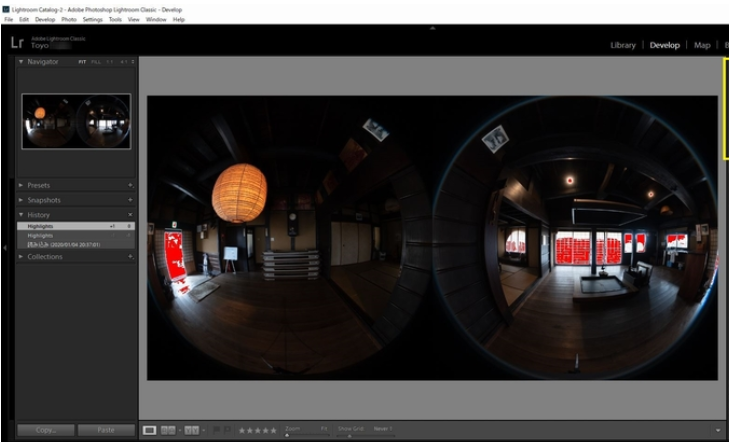 Before shooting, I purposely opened the sliding door at the entry hall to check the highlight issue. We cannot avoid overexposure in (-2) bracketing image. However, 5 or higher bracketing mode may provide us low noise image after merging in LR Classic, like as Kandao Raw+. It's amazing!
If you want to see the result of Burst9 mode and Kandao Raw+, visit the website below.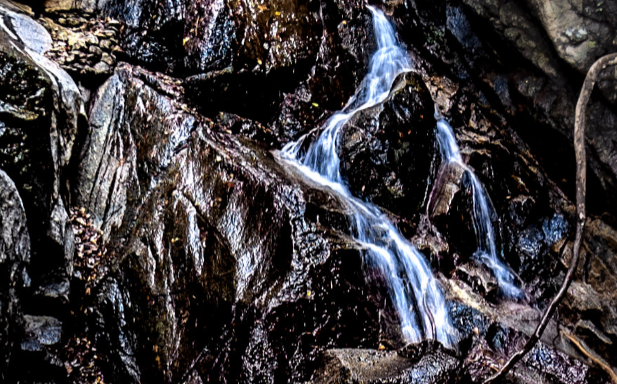 Related Tools
Transfer DNG files with THETA DNG Transfer.
Stitch Dual-fisheye on Android
Stitch on Desktop with Lightroom
Review by Jolly TVFX
This Plugin is awesome!
I work in Film VFX on set, so have been looking into a way to use the Theta Z1 to replace my full frame camera and 8mm for taking bracketed HDRI images.
I had previously been testing Authydra, which is an excellent app but doesn't yet have the DNG support. This one does!
Here are my thoughts when testing:
Captures DNG and jpg - Excellent!
Brackets up to 9 images - Just what I needed!
Takes both 180º photos at the same time - and this is a fast process. All said and done, capturing all the images I needed took less than a minute.
No HDR processing, just the raw images and saves so much time without this.
Easy to set up. Doesn't require connecting with an iPhone/iPad. All set up and capture done on camera.
Each sequence of photos is saved in a new folder and easily transfers to a computer with Theta File transfer app.
You can set a 10 second delay. so press the button and step back.
It retains previous plugin settings.
much faster capture than any of the other plugins I've tried!
Attached are some quick tests I did. One inside, one outside.
Inside
Great video on mobile workflow by Yuqing Guo
Related mobile apps (when using a mobile workflow). Most people edit with Lightroom on the desktop.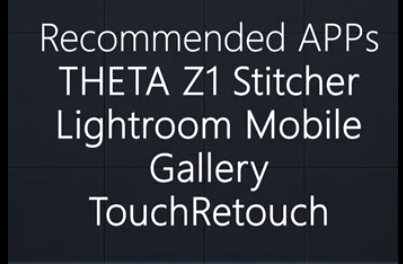 DNG plus HDR stack (16bit)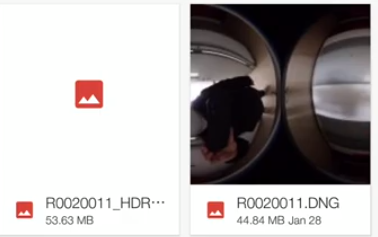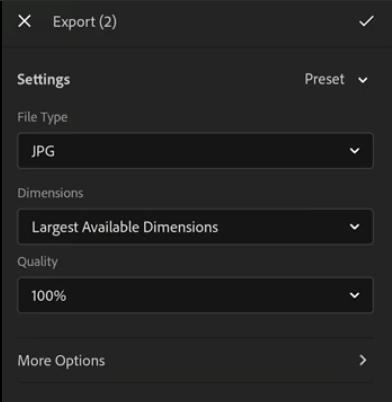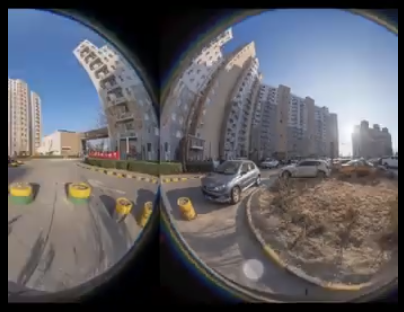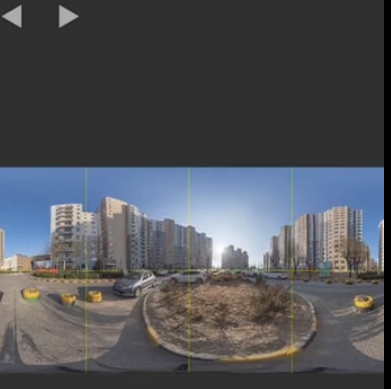 Bluetooth Remote Support
Version 2.4.1 added Bluetooth remote support.
See this video by Guo Yuqing.
---
Thank you for supporting freely available community information by buying from the Buyer Guide. We receive a small referral fee.