---
I tested PowerDirector 17 features to convert THETA V 360° video into 2D video. This technique is great for social media, hobbyist, and family videos. It enables cinematic panning and the ability to track and follow actors in a large space. The combination is great for cut-scenes and b-roll, reducing the need for multiple cameras. As the resolution is reduced, I wouldn't use this technique on THETA V videos for client projects.
Bottom line: Fun, easy to use, extensive tools for 360° to 2D video conversion. Useful. Recommended.
Test Equipment
RICOH THETA V running firmware 2.40.2 and default video settings
Windows 10 64 bit running on test computer with i7-6800K, 6 core, 32 GB of RAM
Import THETA V Files
Connect the THETA V to your computer with a USB cable. Import all the video files with an easy drag and drop. The files are automatically detected as 360 videos.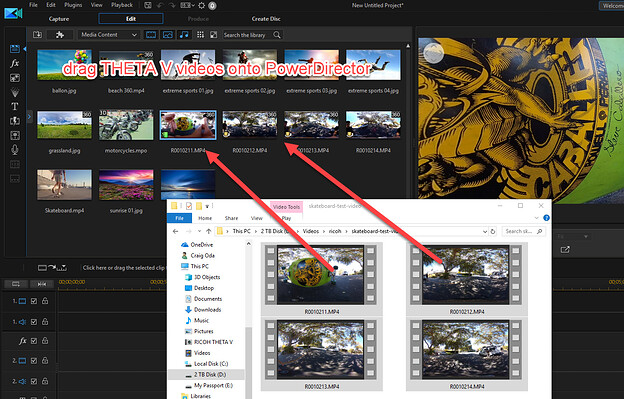 Enabling Shadow Files
Automatically detected 4K videos and can easily enable shadow files.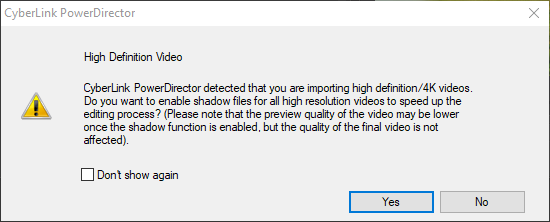 Shift Between 360° Video Views
You can easily shift between equirectangular and 360° views.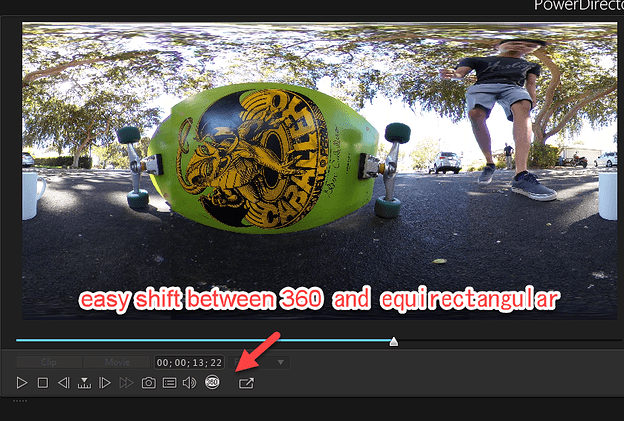 PowerDirector selected a resemble viewable area of the 360 video by default. Zoom and rotation in all directions work great.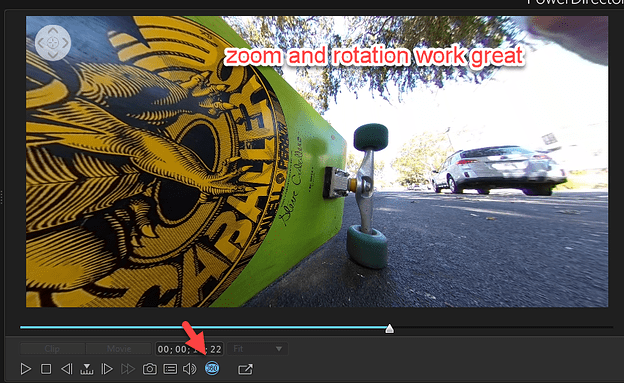 Option to Create 2D video using 360° footage
When I moved the footage onto the timeline, a popup window appeared to convert the 360° footage into a 2D video.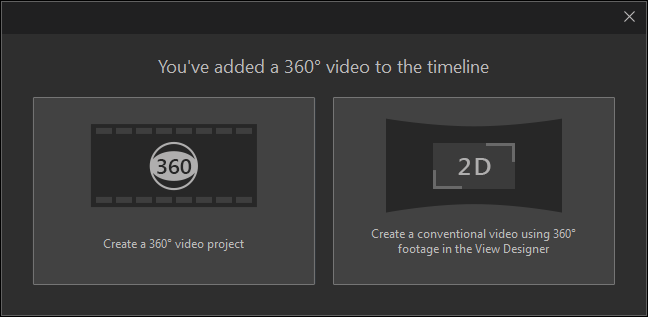 View Designer
PowerDirector provides good control of the view of the clip with a tool called View Designer. This technique to convert 360 videos into 2D is also called, overcapture.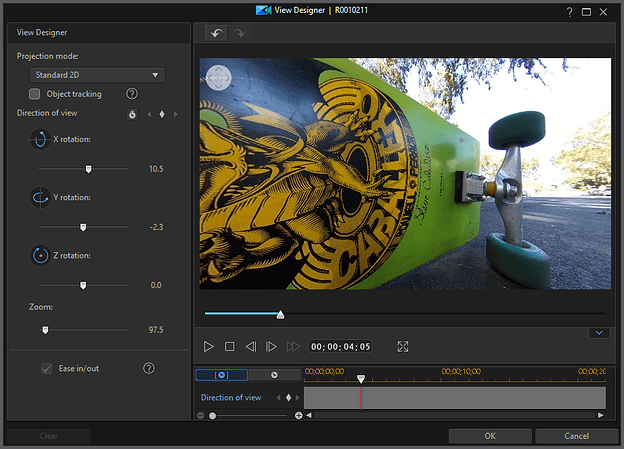 Exporting Test Clip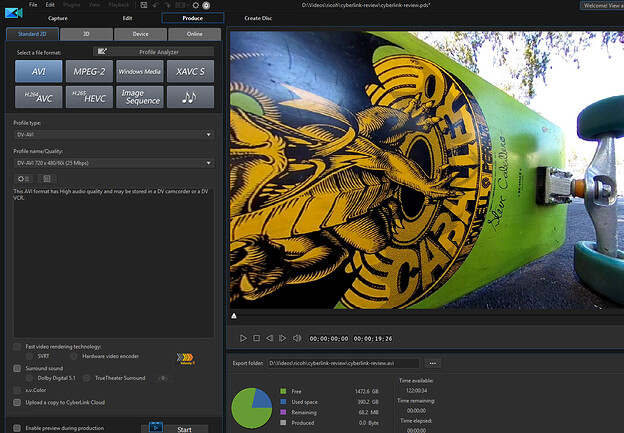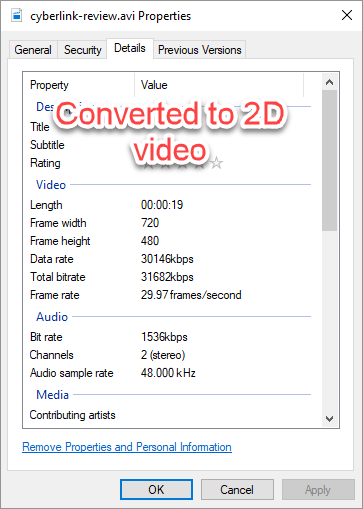 Resolution is 720x480 at 30fps. The original THETA V recording was 3840x1920.
I uploaded the video to YouTube and the viewing experience was good for my family video social media use.
Convert RICOH THETA Video to 2D with PowerDirector - Test Clip
Editing a 360° video in 2D is a lot of fun because you can rotate the entire 360° scene to get the focus of the shot that you want. This is really convenient if you're taking a video of a moving object and want to have the camera in a tripod. You can just leave the RICOH THETA V stationary and then rotate the scene later in CyberLink PowerDirector.
Object Tracking in 2D Mode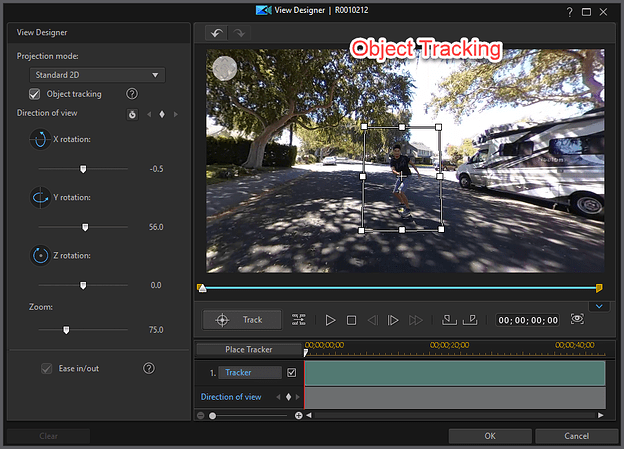 Camera Panning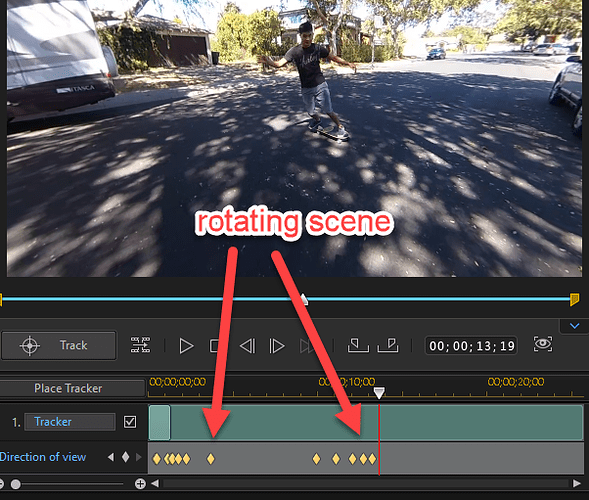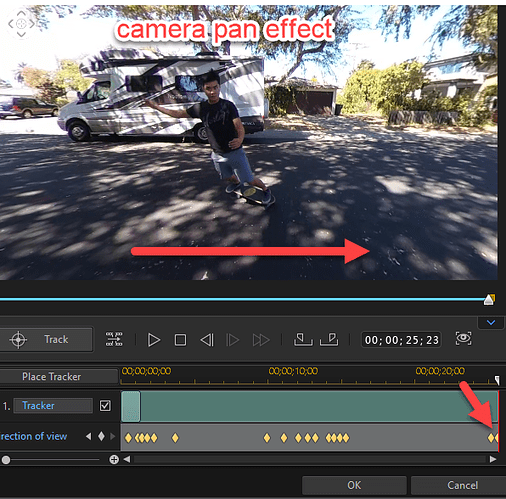 Summary and Opinion
CyberLink PowerDirector 17 is easy to use and has great features for RICOH THETA videographers. It can easily handle the THETA V videos. Compared to Adobe Premiere Pro, it is easier to learn and includes good automated wizards to establish reasonable default settings.
This article focuses on using PowerDirector to convert THETA V 360° video into a 2D video. Although PowerDirector achieves this by cropping the video and reducing the resolution, the results look decent and usable on YouTube.
Many special effects, including panning, video stabilization, and color enhancement greatly help with editing THETA V video files.
This technique emphasizes convenience and sacrifices video resolution. It's great for social media and to share family videos. The technique is not suited for professional use that you want to charge clients.
This is a limitation of video camera resolution, not a limitation of the software. The original THETA V recording was 3840x1920. CyberLink PowerDirector converts this resolution to 720x480 at 30fps. The solution in the future is to increase the resolution of the THETA.
Despite the reduced resolution, I'm happy with the results and plan to use the technique for both hobby and some professional use. You can see a test clip here. I'll be posting more tests soon, so check back soon or subscribe to the YouTube channel.
Here are two more clips that I created with CyberLink PowerDirector 17 and a single THETA V camera.
RICOH THETA Video Editing - Overcapture and 360 to 2D Conversion