Today we draw attention to a fun and lighthearted RICOH plug-in perfect for keeping your 360 camera in use while social distancing. Like shooting galleries? Like collecting games? Don't like either of those things but like having fun? Then you should check out the 360 Hunting Game plug-in for the RICOH THETA!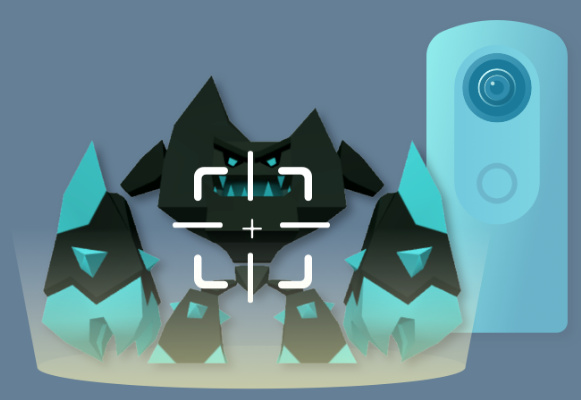 To get started with the plug in, you can download it via a desktop computer here. Note that you will need to attach your THETA to your computer to install the plugin. Supports both V and Z1.

Pro Tip! Now's a good time to set your Sleep settings to OFF. Before you run the plug-in and start playing.
Once downloaded, you can use the basic THETA app for your smartphone. To enable the plug-in, do the following:
Go to the "Settings" tab
Go into "Camera Settings" and select "360 Hunting Game" in the plug-in option
Tap the icon displayed next to "Starting plug-in"
You should be good to go! If this is your first time trying to install a THETA plug-in, feel free to reply to this post. It takes a couple of steps, but it's easy. We can help!
Getting Started
You can then select the image you want to use to hunt! Your picture becomes the environment that the game takes place in. Pretty cool seeing all the action in places that you can choose yourself. You will want to put your device in landscape mode for this activity.
There's a "Playing Manual" that lets you know how to use the controls.
You can see here that you should tap the "AA" symbol on your window, tap "Hide Toolbar," and then hit the close button in the corner of the Playing Manual to start your round.
There are three modes, Easy, Normal, and Hard. You use the right hand "PUSH" button to shoot at monsters and the left hand joystick to navigate yourself.
To see which monsters you've collected so far, you can check out your collection via the collection button.

See how many you can get before you run out of time!
You can take a screenshot of your score and post it to social media with the hashtag #360hunting!
Try it!
Do you like using plug-ins with your THETA? This is a fun plug-in, kind of fun chance to use your 360 images in a different way, and I thought it would make a nice way to bond with your kids while you're sheltering-in-place.